Selling a Firearm in California? Use the Industry Leading Consignment Service
Looking to capitalize on investment grade firearms in California? Look no further than the premier consignment service for any high-end firearms you may have.
Let's be honest, the gun regulations in California are some of the strictest in the nation and trying to sell a firearm on your own in the Golden State can be a tall order to say the least. Being in compliance with the lengthy list of state regulations can be tricky if not down right nearly impossible. Additionally, finding the right buyer, fetching the desired price you are seeking in a timely manner can be a humbling experience for the uninitiated.
However, those still determined to go at it on their own, here is a helpful guide that covers the requirements to buy and sell a firearm in California.
What are the Requirements for Buying and Selling a Firearm in California?
Firearms purchases and transfers, including private party transactions and sales at gun shows, require using a California federally licensed gun dealer under the Dealer's Record of Sale (DROS) process. Under California law there is a required 10-day waiting period before a firearm can be released to a purchaser or transferee.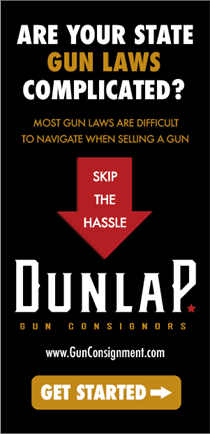 Registering a firearm is not required with the exception of assault weapons and personal handgun importers. Owners are required to submit a Firearm Ownership Report (FOR) Application (BOF 4542A), pdf to the California Department of Justice for any firearm they are seeking return where no other record is on file with the department identifying them as the most recent owner/possessor. Having a FOR application on file with the department will authorize the return of a firearm if it is subsequently lost or stolen.
If purchasing a handgun from a licensed California firearms dealer and and a background check was conducted via the state's Dealer's Record of Sale (DROS) process, a record of the handgun purchase would be on file with the Department. Therefore, it should not be necessary to submit a FOR application for handguns previously purchased in California. Prior to January 1, 2014, the Department was prohibited by law from retaining DROS long gun information.
Are There State fees when Purchasing a Firearm?
Yes, the total state fee is $37.19. The DROS fee is $31.19 and covers the costs of the background checks and transfer registry. There is also a $1.00 Firearms Safety Act Fee, and a $5.00 Safety and Enforcement Fee. In the event of a private party transfer (PPT), the firearms dealer may charge an additional fee of up to $10.00 per firearm.
If the transaction is not a PPT the dealer may impose other charges as long as this amount is not misrepresented as a state fee. When settling on the purchase price of a firearm, you should ask the dealer to disclose all applicable fees.
(Pen. Code, §§ 23690, 28055, 28230, 28300, 28233.)
What is a Certificate of Eligibility (COE)?
A "Certificate of Eligibility" certifies the Department of Justice (DOJ) has checked its records and determined the recipient is not prohibited from acquiring or possessing firearms at the time the firearms eligibility criminal background check was performed. It is a pre-requisite licensing/permit requirement for all prospective licensed firearms dealers, licensed ammunition vendors, manufacturers, certified instructors, gun show promoters, explosive permit holders and other firearm related employment activities, including, any agent or employee of a vendor who handles, sells, or delivers firearms and ammunition. The initial COE application process includes a firearms eligibility criminal background check and issuance of a certificate, which is valid for one year. The COE must be renewed annually and it can be revoked at anytime if the COE holder becomes prohibited from owning/possessing firearms and ammunition.
Effective July 1, 2019, pursuant to California Code of Regulations, title 11, section 4033 the DOJ is no longer accepting COE applications via mail. COE applications must be filed electronically by accessing the California Firearms Application Reporting System (CFARS) at the following URL https://cfars.doj.ca.gov/login.do
Private Sales in California
Private party transfers must be conducted with both parties, in person, through a fully licensed California firearms dealer. The purchaser (and seller if the purchaser is denied), must meet the normal firearm purchase and delivery requirements.
Firearms dealers are required to process private party transfers upon request but may charge a fee not to exceed $10.00 per firearm for conducting the transfer. For example:
For private party transfers, the total allowable fees, including the DROS, safety, and dealer transfer fees, are not to exceed $47.19 ($37.19 DROS fee and $10.00 PPT fee), and $10.00 for each subsequent firearm.
Failure to complete a background check through a licensed dealer would be a violation of California regulations and carries penalties for all parties involved.
"Antique firearms," as defined in section 921(a)(16) of Title 18 of the United States Code, and curio or relic rifles/shotguns, defined in section 478.11 of Title 27 of the Code of Federal Regulations that are more than 50 years old, are exempt from this requirement. For additional exceptions, refer to Penal Code sections 27850 through 27966.
(Pen. Code, § 27545, 28055)
Minimum Qualifications to Own a Firearm
In order to purchase a firearm legally, the buyer must be 18 years old to purchase rifles, shotguns and ammunition. Buyers looking to purchase handguns must be at least 21 years old.
Pursuant to Penal Code section 27510, a California licensed dealer is prohibited from selling, supplying, delivering, transferring or giving possession or control of any firearm to any person under the age of 21 years, except as specifically exempted. The exemptions apply to the sale, supplying, delivery, transfer, or giving possession or control of a firearm that is not a handgun to a person 18 years of age or older.
The Exemptions Include:
A person 18 years of age or older who possess a valid, unexpired hunting license issued by the Department of Fish and Wildlife.
An active peace officer, as described in Chapter 4.5 (commencing with Section 830) of Title 3 of Part 2, who is authorized to carry a firearm in the course and scope of his or her employment.
An active federal officer or law enforcement agent who is authorized to carry a firearm in the course and scope of his or her employment as a reserve peace officer.
A person who provides proper identification of his or her active membership in the United States Armed Forces, the National Guard, the Air National Guard, or active reserve components of the United States.
A Person who provides proper identification that he or she is an honorably discharged member of the United States Armed Forces, the National Guard, the Air National Guard, or active reserve components of the United States.
As part of the DROS process, the purchaser must present "clear evidence of identity and age" which is defined as a valid, non-expired California Driver's License or Identification Card issued by the Department of Motor Vehicles (DMV). A military identification accompanied by permanent duty station orders indicating a posting in California is also acceptable.
If the purchaser is not a U.S. Citizen, then he or she is required to demonstrate that the buyer is legally within the United States by providing the firearms dealer with documentation containing a valid Alien Registration Number or I-94 Number.
Purchasers of handguns must provide proof of California residency, such as a utility bill, residential lease, property deed, or government-issued identification (other than a driver license or other DMV-issued identification), and either (1) possess a Handgun Safety Certificate (HSC) plus successfully complete a safety demonstration with their recently purchased handgun or (2) qualify for an HSC exemption.
(Pen. Code, § § 26800-26850.)
Any person who has a conviction for any misdemeanor listed in Penal Code section 29805 or for any felony, or is addicted to the use of any narcotic drug, or has been held involuntarily as a danger to self or others pursuant to Welfare and Institutions Code section 8103 is prohibited from buying, owning, or possessing firearms or ammunition.
There are also prohibitions based on mental conditions, domestic restraining/protective orders, conditions of probation, and specific offenses committed as a juvenile. A list of prohibited categories is available on the Bureau of Firearms website.
(Pen. Code, §§ 29800, 29805, 29815, 29820, 29825, 29855, 29860, 29900, 29905, 30305; Welf. & Inst. Code, §§ 8100-8103; 18 U.S.C. § 922, subd. (g), 27 C.F.R. § 478.22.)
For more details on California's gun regulations click here.
FEDERAL DISQUALIFICATION CATEGORIES
Conviction (felony or misdemeanor) where the crime has a maximum imprisonment term exceeding 1 year (even if a buyer did not receive actual imprisonment exceeding 1 year).
Warrant (felony or out-of-state misdemeanor).
Felony pre-trial release.
Misdemeanor crimes of domestic violence restraining/stalking/protection order mental health adjudication or commitment.
Unlawful use or addicted to a controlled substance (including marijuana).
Dishonorable discharge from the armed forces.
Renounced U.S. citizenship.
Illegal alien.
Want to make sure your firearm is sold legally for top dollar? Use GunConsignment.com for peace of mind!
Our service allows you to relax from the comfort of home while our staff of professionals navigate the hard part of selling a firearm through consignment. Our process is not only safe and hassle-free, it is lightning fast.
We guarantee your consigned firearm will fetch top-dollar and you will be paid within 15 – 30 days no matter what time of year it is or where you are located within the United States!
Just tell us the specific make, model and caliber of your firearm, upload a few photos of it and once we agree on a price, we'll provide a cost free shipping label via UPS. Any and all additional expenses will be paid by Dunlap Gun Consigners.
Begin our safe, discrete and legal process here.
"DISCLAIMER"
The information contained on this website has been prepared as a service to the internet community and is not intended to constitute legal advice. GunConsignment.com has used reasonable efforts in collecting, preparing, and providing quality information and material, but does not warrant or guarantee the accuracy, completeness, adequacy, or currency of the information contained in or linked to this website. Users of information from this website or links do so at their own risk and should consult their local firearm law resources and/or an attorney when engaging in selling a firearm.