Consign a Gun in Nebraska for Top Dollar Using Dunlap Gun Consigners
Selling a coveted, expensive firearm can be a tall order for the uninitiated. From knowing the laws in place, researching a gun's worth and finding a right buyer, selling an investment grade gun doesn't happen overnight. However, using Dunlap Gun Consigners will not only cover all the aforementioned factors, we guarantee clients using our service will be paid within 15 – 30 days of agreeing to use our service and for the most amount when compared to our competitors.
But if this isn't enough to convince potential consignees, we have provided an analysis below of the firearm regulations in place to buy, sell and transfer in Nebraska.
Private Party Sales – Selling a Gun to an Individual
Selling to a Federal Firearms License (FFL) is much easier, but if you want to sell to a private party you'll want to be informed.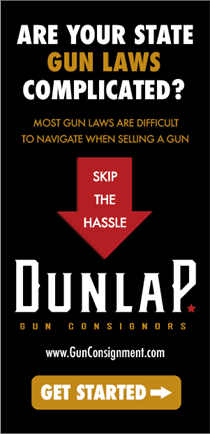 Private sellers are not required to conduct background checks on handgun buyers in Nebraska. Generally, Nebraska law requires persons to have a handgun purchase certificate before purchasing, leasing, renting, or receiving a handgun and prohibits persons from selling, leasing, renting, or transferring a handgun to persons who do not have a certificate.
The background check is required as part of the application for a handgun purchase certificate and that check is conducted by the authorizing law enforcement agency, either the local sheriff's office or police department. However, private sellers are not exempt from laws prohibiting knowingly selling a firearm to a felon or a juvenile.
Handgun certificates are good for three years from the date of issuance and allow the holder to purchase any number of handguns during this period, provided the holder continues to meet the legal requirements to purchase and possess handguns.
Finally, state law does not prohibit municipalities from enacting stricter provisions. Omaha and Lincoln are among municipalities that impose additional regulations within their jurisdictions. Among its provisions, Lincoln requires licensed dealers to report handgun sales occurring in the city to the police department. Omaha requires handgun sales in the city to be approved by the police and requires residents and visitors alike to register handguns possessed within the city limits.
Nebraska State Firearm Prohibitors
The following disqualifies a person in Nebraska from purchasing a firearm.
NEBRASKA STATE DISQUALIFICATION CATEGORIES
• Providing false information on the application for a purchase certificate. It is a Class IV felony and violating any provisions of the handgun certificate process are Class I misdemeanors. Convictions of either offense can result in having firearms confiscated.
• Making a materially false oral or written statement or furnishing false identification by any person in connection with a handgun purchase or attempted purchase. Doing so is a Class I misdemeanor.
• Buying a firearm for a person known to be prohibited by law from buying or possessing a handgun. Doing so is a Class IV felony.
FEDERAL DISQUALIFICATION CATEGORIES
• Conviction (felony or misdemeanor) where the crime has a maximum imprisonment term exceeding 1 year (even if a buyer did not receive actual imprisonment exceeding 1 year).
• Warrant (felony or out-of-state misdemeanor).
• Felony pre-trial release.
• Misdemeanor crimes of domestic violence restraining/stalking/protection order mental health adjudication or commitment.
• Unlawful use or addicted to a controlled substance (including marijuana).
• Dishonorable discharge from the armed forces.
• Renounced U.S. citizenship.
• Illegal alien.
To learn more about Nebraska's gun regulations click here.
Want to make sure your firearm is sold legally for top dollar? Use GunConsignment.com for peace of mind!
Our service allows you to relax from the comfort of home while our staff of professionals navigate the hard part of selling a firearm through consignment. Our process is not only safe and hassle-free, it is lightning fast.
We guarantee your consigned firearm will fetch top-dollar and you will be paid within 15 – 30 days no matter what time of year it is or where you are located within the United States!
Just tell us the specific make, model and caliber of your firearm, upload a few photos of it and once we agree on a price, we'll provide a cost free shipping label via UPS. Any and all additional expenses will be paid by Dunlap Gun Consigners.
Begin our safe, discrete and legal process here.
"DISCLAIMER"
The information contained on this website has been prepared as a service to the internet community and is not intended to constitute legal advice. GunConsignment.com has used reasonable efforts in collecting, preparing, and providing quality information and material, but does not warrant or guarantee the accuracy, completeness, adequacy, or currency of the information contained in or linked to this website. Users of information from this website or links do so at their own risk and should consult their local firearm law resources and/or an attorney when engaging in selling a firearm.